By The Welch Group
The events of the last few weeks in Ukraine have been stressful and upsetting to many of us. The buildup of Russian forces along the border, rising tensions, and the ensuing attack have caused worldwide shockwaves. People across the globe are understandably concerned and anxious. 
What's more, the events have caused economic volatility across the world, with Russia's currency dropping to historic lows against the dollar and the Russian stock market issuing an emergency closure. (1) On February 24th, the European Stock Market Volatility Index, which measures the expectation of volatility over the next 30 days, neared a 20-year high. (2)
While hopes are high for talks aimed at deescalating the crisis, the financial implications may be considerable. Tough financial sanctions aimed at Russia could lead to an increase in retaliatory cyberattacks. In addition to the conflict in Ukraine, our economy is facing high inflation and continued uncertainty about COVID variants. We expect continued volatility as the conflict continues and the pending FED meeting. (3)
Financial Markets and Geopolitical Events
Events around the world can quickly shock financial markets, but the reality is that markets often tend to recover rather quickly from external shocks. In fact, since World War II, stock markets typically rebounded within 3 months of a large geopolitical shock. The average time for markets to rebound after major geopolitical shocks is around 47 days. (4) In fact, the U.S. stock market regained losses within 30 days of the September 11th attacks. (5)
Take a look at the following chart to see how stocks typically recover following geopolitical crises: (6)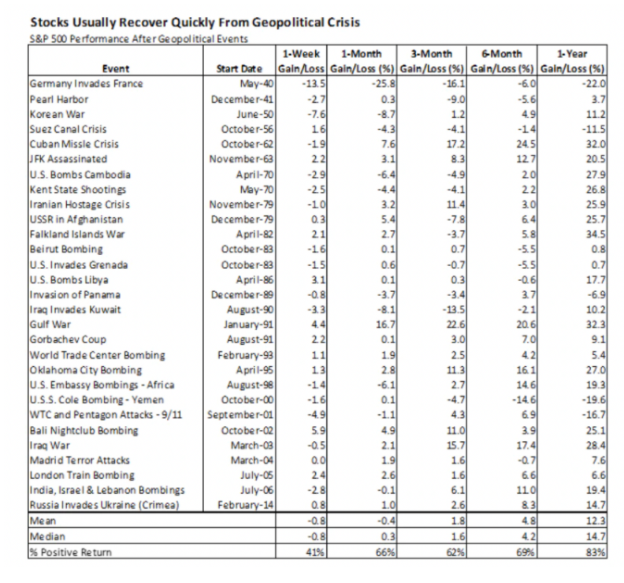 What to Do During Market Declines
While market declines can be scary, especially for those within retirement, the reality is that these declines often create valuable opportunities. Short-term price drops for companies with excellent long-term value offer a great chance to invest or rebalance. Because markets are prone to quickly recover after geopolitical shocks, it's critical not to sell during short-term downturns.
Stay Calm
While the current conflict is stressful to many, your long-term investment plan should not be a source of fear. At times like these, it's important to put current conditions into perspective. This is not the first time the market has taken a tumble and it won't be the last. Declines in the Dow Jones Industrial Average are actually fairly regular events. In fact, drops of 10% or more happen about once a year on average: (7)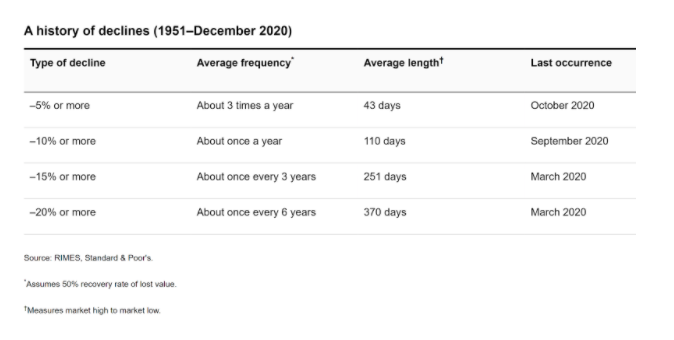 Play Dead
There's an old saying that the best thing to do when you meet a bear market is the same as if you were to meet a bear in the woods: play dead. While easier said than done, successful long-term investors know that it's important to stay calm during a market decline.
Market volatility has increased in recent years and it may seem like each episode is worse than the one before. In reality, volatility does not hurt investors, but selling when the market is down will lock in losses.
Remember That Your Portfolio Is Diversified
Fears about war and market declines are stressful. However, it is important to keep in mind that while the stock market is down, your portfolio is made up of both stocks, bonds, and other assets that are designed to work together to decrease overall losses. It's important to consider your specific portfolio, investment horizon, and circumstances when reflecting on economic events. If you have questions about your portfolio, get in touch with our office.
Review Your 401(k) and Other Accounts
Now is a good time to take a look at all of your investment accounts, including your 401(k) to make sure it is well diversified. If you have not rebalanced your other investment accounts in the last year, get in touch with our office and we'll take a look and offer recommendations to minimize potential losses.
Speak With Your Advisor
Whether you're new to investing or an experienced investor, it's helpful to consult with an objective third party. Human nature causes us all to act out of emotion when our accounts go down. As an independent firm, we put your best interests first. We seek to serve as a support system for our clients, helping them make informed financial decisions that aren't driven solely by emotion.
We're Here for Your Friends and Family
If you have friends or family who need help with their investments, we are happy to offer a complimentary portfolio review and recommendations. We can discuss what is appropriate for their immediate needs and long-term objectives. Sometimes simply speaking with a financial advisor may help investors feel more confident and less concerned with the day-to-day market activity. Reach out to us today by phone at 205-879-5001.
About The Welch Group
The Welch Group is a fee-only, employee-owned wealth management firm committed to enriching the lives of their clients. Founded in 1984, The Welch Group helped pioneer the fee-only financial planning and investment management movement and has continued to put the needs of clients first ever since. Offering wealth management and family office services to retirees and young professionals, The Welch Group team strives to simplify financial management and help clients secure their financial future so they can focus on what matters most. Our personalized and comprehensive approach helps clients plan for their goals, needs, and concerns, including estate planning, cash flow, charitable and tax planning, and retirement strategies. 
As financial advocates, the financial advising team is made up of educated, experienced, and dedicated professionals, including Certified Public Accountants, a Juris Doctorate (JD), individuals with MBA degrees, and CERTIFIED FINANCIAL PLANNER™, Accredited Estate Planner®, and Chartered Financial Analyst® professionals. The Welch Group is passionate about giving back, creating positive ripple effects in our community by supporting local charitable organizations through The Welch Group Foundation. To learn more about what we do and how we can help, explore our website and schedule a complimentary consultation.
IMPORTANT DISCLOSURE INFORMATION
Please remember that past performance may not be indicative of future results. Different types of investments involve varying degrees of risk, and there can be no assurance that the future performance of any specific investment, investment strategy, or product (including the investments and/or investment strategies recommended or undertaken by The Welch Group, LLC –("Welch"), or any non-investment related content, made reference to directly or indirectly in this blog will be profitable, equal any corresponding indicated historical performance level(s), be suitable for your portfolio or individual situation or prove successful. Due to various factors, including changing market conditions and/or applicable laws, the content may no longer be reflective of current opinions or positions. Moreover, you should not assume that any discussion or information contained in this blog serves as the receipt of, or as a substitute for, personalized investment advice from Welch. Please remember that if you are a Welch client, it remains your responsibility to advise Welch, in writing, if there are any changes in your personal/financial situation or investment objectives for the purpose of reviewing/evaluating/revising our previous recommendations and/or services, or if you would like to impose, add, or to modify any reasonable restrictions to our investment advisory services. To the extent that a reader has any questions regarding the applicability of any specific issue discussed above to his/her individual situation, he/she is encouraged to consult with the professional advisor of his/her choosing. Welch is neither a law firm nor a certified public accounting firm and no portion of the blog content should be construed as legal or accounting advice. A copy of Welch's current written disclosure Brochure discussing our advisory services and fees continues to remain available upon request or at www.welchgroup.com. Please Note: Welch does not make any representations or warranties as to the accuracy, timeliness, suitability, completeness, or relevance of any information prepared by any unaffiliated third party, whether linked to Welch's website or blog or incorporated herein and takes no responsibility.
______________
(1) https://www.cnn.com/2022/02/28/business/russia-ruble-banks-sanctions/index.html
(2) https://www.cnbc.com/2022/02/23/stock-futures-are-little-changed-after-dow-sinks-to-its-lowest-level-of-the-year-amid-ukraine-crisis.html
(3) https://www.cnbc.com/2022/02/22/stock-market-futures-open-to-close-news.html
(4) https://seekingalpha.com/article/4488660-how-stock-market-reacts-war-based-crash
(5) https://www.forbes.com/sites/jonathanponciano/2022/02/24/russian-invasion-triggers-scary-stock-market-correction-heres-how-long-stocks-take-to-recover-after-geopolitical-shocks/?sh=1e090de224ed
(6) https://www.reuters.com/markets/asia/live-markets-what-history-says-about-geopolitics-market-2022-02-18/
(7) https://www.capitalgroup.com/individual/planning/market-fluctuations/past-market-declines.html